Biskut Cornflakes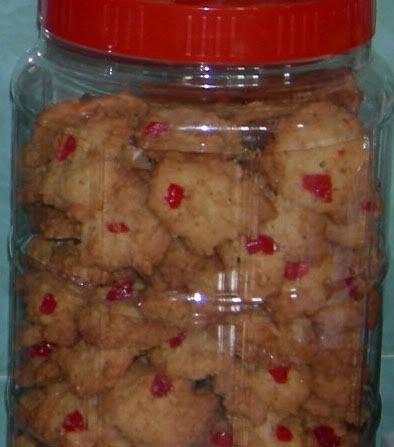 Bahan :

1 box cornflakes (guna Kelloggs)
2 biji telur
250 gm butter
180 gm gula halus
300 gm tepung gandum
1 sudu teh baking powder
1 sudu teh esen vanilla
Ceri merah untuk hiasan
Cara:

1. Ayak tepung dengan baking powder
2. Hancurkan cornflakes
3. Pukul butter dengan gula hingga kembang. Masukkan telur dan pukul lagi. Masukkan esen vanilla.
4. Masukkan tepung dan cornflakes.
5. Guna sudu teh dan bentuk kuih. (Sudu-sudukan saje)
6. Hias dengan ceri
7. Bakar hingga masak.
+++++++++
CHOCOLATE CHIP COOKIES
(Sis Rossya) . Taken from
MamaFaMi's Page.
Thank You !
Ingredients :
8 ozs butter
5 ozs castor sugar
1/2 teaspoon bicarbonate of soda
1 teaspoon cream of tartar
a pinch of salt
1 cup Milo
10 ozs self-raising flour
6ozs Hershey's semi-sweet mini chocolate chips
1 teaspoon vanilla essence
1 egg yolk
Method :
1. Beat butter, sugar, salt, vanilla essence, cream of tartar and bicarbonate of soda till creamy.
2. Add in egg yolk and continue beating.
3. Add in Milo and chocolate chips.
4. Finally add in self raising flour.
5. Take a small portion of the dough and arrange on the tray. Leave some space in between each dough.
6. Bake till golden brown, about 15 minutes.
Versi saya
1. Satu adunan saya ikut sepenuhnya resepi di atas
2. Satu adunan, saya cuma letak 1 sudu besar milo dan letak strawberry-flavored chips dan chocolate rice.
3. Satu adunan, letak 1/2 cup milo, white choc chips dan choc chips.
Verdict :
Yang no. 3 dha nak habis dah anak makan !
Ni yang letak strawberry chips tu